Yukon men's group embraces the power of building relationships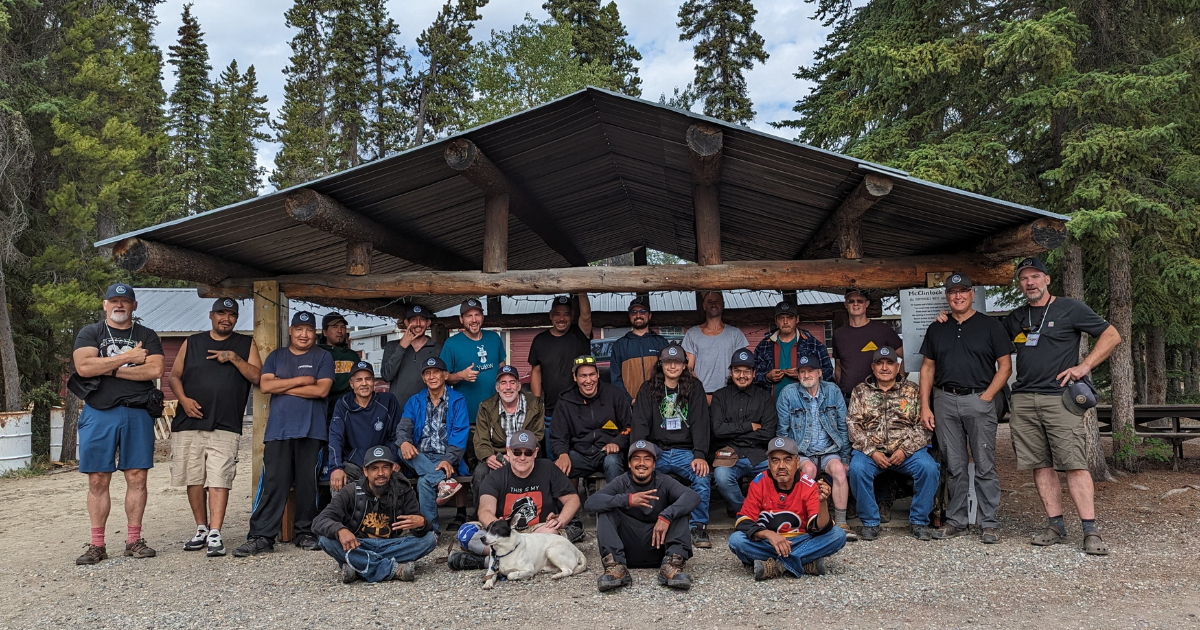 In July, twenty-one men in the Yukon gathered for a week of salmon smoking, saw-horse building, and campfire-bonding.
This event, called a 'relationship-builder', is one of a series of initiatives for at-risk men led by The Nelson Project. These relationship-builders focus on creating a place of respect and non-judgment for men to meet each other on equal footing and discuss what they are going through in their lives.
"It's about working on projects together without a special agenda or set objectives," says Grant Barley, Board Member for TNP and Strategies North President. "Bonding around the fire, talking, and creating a supportive and non-judgmental environment. The guys can re-establish old connections and form new ones."
The Nelson Project is a program designed to support men in the Yukon by respecting who they are and creating an environment for them to overcome any challenges they may be facing. Grant, along with Nelson Lepine, SN Director of Housing & Infrastructure, are both founders and Board Members.
The goal of these retreats, which are planned to happen regularly throughout the year, is to teach a simple but fundamental skill: respectful relationship-building.
"Our main focus is on building a strong foundation through relationships and showing the benefits of maintaining respectful relationships for people's lives," says Nelson. 
We don't often think of relationships as a 'skill' – in other words, something that is learned, taught, and practiced. If someone comes from a background where they haven't been able to cultivate the skill, or have lost the ability to connect with others in a deep, meaningful and respectful way, their overall health and resilience can suffer.
In the Yukon, some men struggle silently with addictions and other challenging life circumstances without the support of a community behind them. TNP is based on the idea that while healing, recovery, and growth is a personal journey, it cannot – and does not – happen alone. Says Nelson, "What we plan on doing is building trust and bringing back hope."
During the relationship-builders, TNP hopes to provide a 'buffet of tools' to the participants: new strategies and attitudes that they can take back home.
"Each person requires a unique set of tools to progress, and our goal is to offer a variety of options to become self-reliant in their journey to recovery or onto a better path that not only benefits them, but the families and other relationships they may have in their lives. What we're trying to do is provide all-around supports and the tools to troubleshoot life, so they can focus on their new positive path."
Nelson continues, "You can't give the same tools to every single person and expect every single person to be successful. What we're doing differently is that we're individualizing it. We see and respect the individuals for who they are. If you only look at the group as a whole, you'll fail, because everybody's life struggles are different."
The most important tool is human connection. "When we all sit down and agree to create an environment of respect and understanding, we found that the guys wanted to give back by helping others."
Of course, before participants can pick up these tools, they have to first be lifted out of what Nelson calls 'survival mode'.
"When you're stuck in survival mode, your focus is on getting through the next 12 or 24 hours. There's no room to plan for the future. We try to eliminate those barriers and help people heal on their own terms in a safe place without judgement."
Nelson admits that change doesn't happen overnight. But when the week is up, the team hopes that each man will bring home some positive momentum to their own lives.
"We could actually see the positive changes in their physical and mental well-being throughout the week," Grant recalls. Many men reported having the best sleep they have had in years, and finding the strength to wake up sober.
In TNP's strategic planning, keeping up the positive momentum is always front of mind. One idea in the works is to start 'affiliate groups' throughout the territory. "The idea is to have small groups in each community we're part of to provide continuous support for TNP members and help keep each other on track," says Grant.
Thinking down the line, TNP's dream is to have a real, physical space called the 'Relationship Centre' where men can gather to support each other on a regular basis. It will offer various training programs, workshops, and resources and opportunities to give back to the community. For those facing difficulties at home, the center could provide a safe place to stay and access support services.
During the relationship-builder retreat, local Yukon architect Antonio Zedda joined to get the participant's thoughts on what that Relationship Centre could look like. Ideas included an industrial kitchen, workshops for carpentry, and agricultural components. An abattoir could make meat processing easier for those who hunt and want to process their own game.
That process of dreaming up the Relationship Centre was a way to help men feel hope in thinking more than 24 hours in the future. It was also to let the guys know that TNP firmly believes in having them be part of every process in creating this organization. "We are here to listen and have discussions with the guys, because after all, they have a PHD in their own lives, we don't."
Back on the ground, The Nelson Project has held 8 'relationship-builder' events so far. The goal is to have many more throughout each year, with both new and repeat faces showing up at each one.
So far, 140 men have participated in the events. That's no small feat. But to Nelson, "We are firm believers that if even one guy shows up, that's a success. It starts with one person at a time."