Strategies North Bi-Weekly Funding Roundup (#1)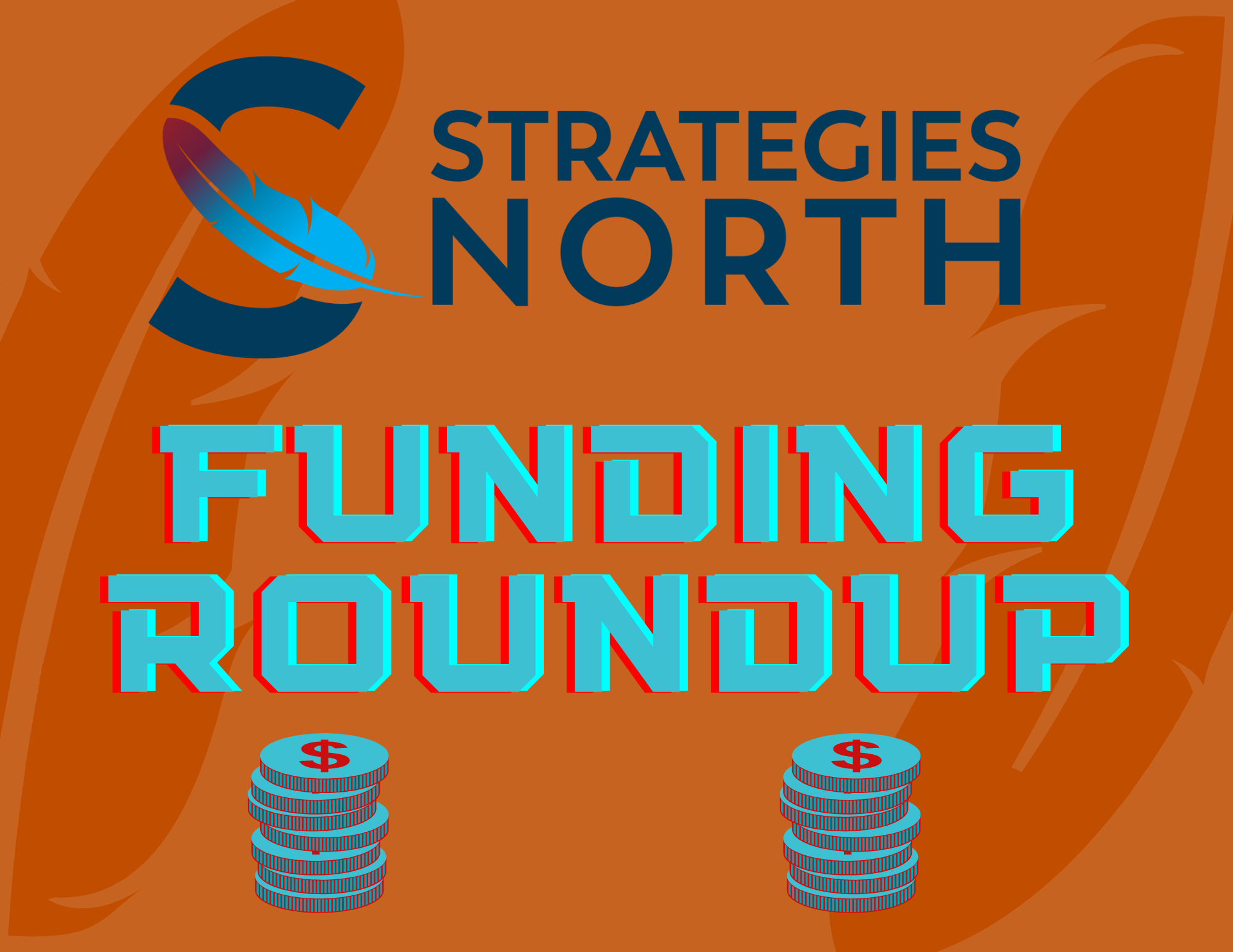 Bi-Weekly Funding Roundup
Every two weeks, Strategies North will provide a summary of relevant funding opportunities that were announced over the past week(s). These summaries will include details concerning each fund's eligibility and deadline, as well as key insights from in-house experts with regards to each fund's efficacy. The Weekly Funding Roundup is powered by the Strategies North App, which has been tracking funding opportunities for Indigenous communities and organizations since 2018.
Fund #1: Zero Emission Vehicle Infrastructure Program (Natural Resources Canada)
Description:
This program provides funding to address the lack of charging and refueling stations in Canada by increasing the availability of localized charging and hydrogen refueling infrastructure.
Eligibility:
Indigenous businesses
Municipalities
First Nation communities
Educational institutions
Eligible Activities:
Installing electric vehicle charging stations
Environmental assessments
Salaries and wages
Professional services
Capital expenses
Deadline:
August 11, 2022
Key Insight:
This fund represents an opportunity for Indigenous communities, non-profit organizations, and businesses to improve the feasibility of electric and other zero-emission vehicle adoption in their respective communities through the establishment of necessary infrastructure, like charging stations.
There are several elements of this program that make it particularly appealing for Indigenous applicants. For example, there are opportunities to combine funding from multiple sources, especially in B.C, where Natural Resources Canada has partnered with provincial funding sources to make the program more accessible. Under this program, non-Indigenous applicants are able to 'stack' funding from numerous sources up to 75 per cent of total project costs, but are required to contribute at least 25 per cent on their own dime. However, this requirement is waived for Indigenous applicants, who are not required to contribute any money and can use various funders to cover the entire cost of the project.
There remains questions as to whether the establishment of zero-emission vehicle infrastructure is a pressing priority for Indigenous communities, and whether these funds might be more effectively allocated elsewhere. However, the lengthy application window, complemented by the unique considerations for Indigenous applicants, has made this fund rather accessible for First Nations across Canada.
Fund #2: Inclusive Women Venture Capital Initiative (Government of Canada)
Description:
This program provides funding for projects led by not-for-profit organizations to strengthen and build a more inclusive venture capital environment for Canadian women.
Eligibility:
Indigenous businesses
Indigenous non-profit organizations
Educational institutions
Research institutions
Eligible Activities:
Educational services related to the venture capital industry
Investor engagement
Projects that support women entrepreneurs
Networking or mentoring activities
Deadline:
June 20, 2022
Key Insight:
Upon first glance, this fund does not appear to be relevant to the majority of smaller Indigenous non-profit organizations facing capacity shortages. The application process is time-intensive and eligible projects must be directed toward a national or multi-regional.
That being said, this program provides an opportunity for Indigenous non-profits through the eligibility of partnerships. Under this program, several organizations can form partnerships, which allows smaller non-profit organizations to deliver a program locally, even if the full project adopts a national or multi-regional scope. We would encourage Indigenous organizations interested in this program to reach out to larger businesses or non-profit organizations and gauge the interest in forming a partnership that would allow locally-based female entrepreneurs to access some of the funding pool.
Fund #3: Clean Energy for Rural and Remote Communities Program (Natural Resources Canada)
Description:
This program provides funding for clean energy projects in remote and Indigenous communities.
Eligibility:
Indigenous communities
Indigenous non-profit organizations
Indigenous businesses
Economic development corporations
Municipalities
Eligible Activities:
Renewable energy technology projects
Energy efficiency projects and retrofits
Feasibility studies and capacity building projects
Deadline:
No deadline currently listed
Key Insight:
This program is the latest iteration of the Northern REACHE program, which closed in 2019 and sought to help remote and Indigenous communities transition to cleaner energy sources. It is encouraging to see the federal government recognize the importance of further supporting these communities as they consider switching to renewable energy sources, but this program will be limited by its $300 million envelope. Although nearly a third of a billion dollars appears to be a hefty sum, clean energy projects, especially in remote and Indigenous communities, are often cost-intensive, resulting in very few projects receiving funding.
However, this program may be appealing for Indigenous communities in need of a feasibility study or business plan, both of which are eligible for funding under this fund. Particularly in a clean energy context, feasibility studies are often required to apply for funding from other sources, but they are often difficult to finance internally. This program might be an attractive opportunity for communities to finance feasibility studies, which can in turn be used to secure funding for larger clean energy projects.
Fund #4: First Responders' Mental Health Grants (Government of Alberta)
Description:
This program provides funding for services for first responders living with or at risk for post-traumatic stress injuries.
Eligibility:
Indigenous non-profits or community-based organizations (only in Alberta)
Eligible Activities:
Organizational funding
Research activities
Deadline:
June 13, 2022
Key Insight:
This fund is an excellent opportunity for non-profit organizations to fund vital services to first responders suffering from post-traumatic stress disorders. The program's envelope of $1.5 million should be sufficient to finance several Alberta-based organizations. Additionally, although the program's research stream is likely less relevant to Indigenous communities and non-profits, it is encouraging to see Alberta's provincial government support further research into how to better support these individuals who have provided such valuable services over the past few years.
This program could potentially be improved by expanding the eligibility to include Indigenous communities that administer health services and might benefit from further funding.
Fund #5: Local Food Infrastructure Fund (Agriculture and Agri-Food Canada)
Description:
This program will provide funding for projects that either create a portion of (or expand) a food system or implement an entire food system.
Eligibility:
Indigenous communities
Indigenous non-profit organizations
Municipalities
Eligible Activities:
Food production activities
Food processing
Food distribution or storage
Waste disposal
Sustainability initiatives
Deadline:
July 15, 2022
Key Insight:
The Local Food Infrastructure Fund has long been a valuable resource for Indigenous communities and organizations to finance upgrades to their local food systems. It was particularly encouraging to see the fund's latest intake will specifically target rural settlements, as well as both urban and rural Indigenous communities. Food security remains a critical issue in various First Nations across the country and ensuring these communities can access funding to make their food systems more sustainable is an important step on the path to establishing nationwide food security.
This targeted intake shows that Agriculture and Agri-food Canada has acknowledged the need for increased funding for communities that may be just starting out in contemporary agriculture.
If proposals for funding opportunities are always something your community staff and administration are doing off the side of their desk, having a dedicated team take care of your funding opportunities can do wonders for your capacity and funding successes. Government and funders don't make it easy. One or two staffed writers cannot possibly keep tabs on the approximately one thousand programs and opportunities in a given calendar year and maintain relationships with all of the funding agencies. Our team has been perfecting this process over many years, so that your talented staff can do what they do best in implementing programs and services.