Into the Fire Part 1: 10 Days in an Emergency Operations Centre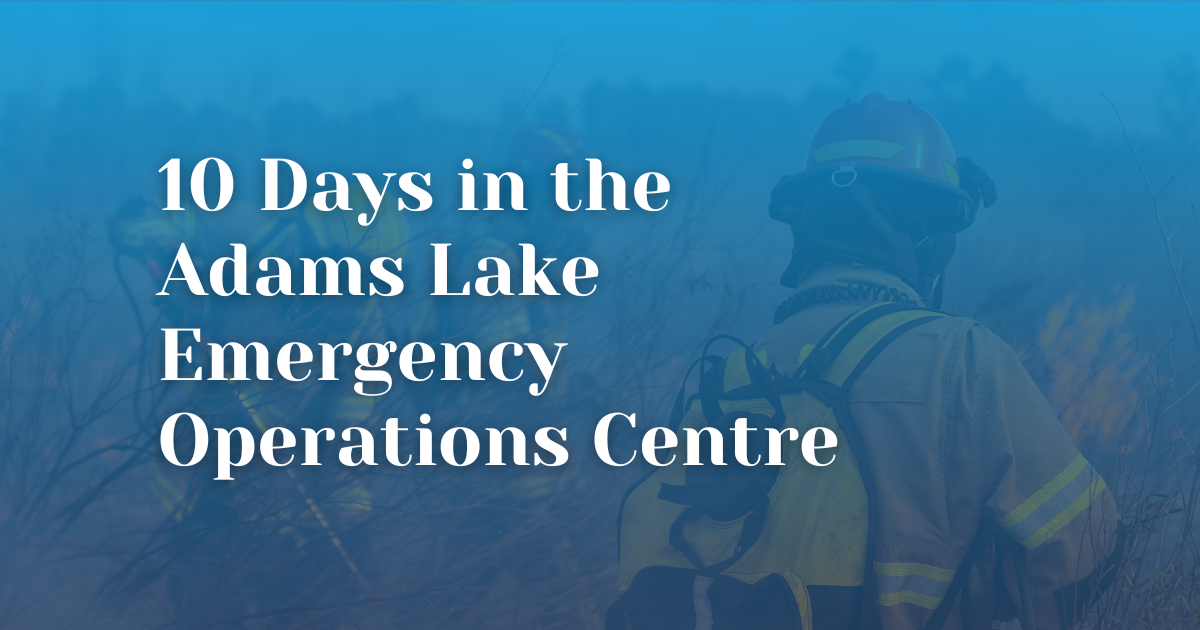 Adams Lake Indian Band (ALIB) in the BC Interior recently spent a harrowing week dealing with wildfires on the shores of Adams Lake. As the wildfires grew more concerning, the ALIB Emergency Operations Centre sprung into action. An EOC is a centralized location for emergency response and recovery support operations during incidents. It's usually ran by the community with help from other emergency response organizations. It's a complicated and critical operation that is hard to fully understand until you're part of it. Anna Barley spent 10 days helping in ALIB's Emergency Operations Centre. Here, Anna reflects on the learnings, challenges, and ways in which the entire community stepped up to help.
Note on terminology: An evacuation alert means being ready to leave on short notice. An order requires residents to leave the area immediately.
To read Part 2, a reflection by Frank Busch on witnessing the West Kelowna Wildfires, click here.
Anna, what was your role at the EOC?
When the evacuation alert was enacted by the Province for ALIB's main reserve, I came from Kamloops on ALIB's request to spend two days there setting up all their financial systems. When I arrived, found that Chief Lynn and her team had created an efficient operation under really challenging circumstances. They were coordinating resources, making decisions, and had a clear understanding of the urgency of action. They led with determination and grace and it set the tone for the whole week. It was an honor to help alongside their team.
When an EOC is officially activated, you have to build a very concrete financial system for dealing with all the costs that are involved in emergency response, because the Province reimburses much of it. I spent two days building their structure for their financial modelling, right down to the spreadsheets and filing and tracking systems. I had to teach myself a lot of it on the fly. It was extremely educational.
Then you acted as Information Officer next, is that correct?
Yes. At one point during that week, the evacuation orders were enacted for all of their five reserves, including the main reserve that the EOC was currently operating on. The entire EOC had to pick up and move to Kamloops. All of a sudden, ALIB had evacuees to manage, which is a very different kind of situation from just being on evacuation alert. The financial systems that we set up were now running smoothly, so I was asked to step in as the Information Officer, which involved everything from drafting media releases to putting out messages to the community. We had to put out tons of communications on the Facebook page to keep people calm and informed about resources.
What are some considerations for emergency communication?
Again, there's a pretty prescribed process that you have to follow when it comes to acting as Information Officer, and you have to be so consistent and careful in your messaging. You have to evaluate and analyze multiple facets of information to disseminate it to people in a way that won't incite panic or cause additional stress or anxiety. To be honest, the information aspect was more challenging than I expected. You had to be incredibly deliberate in the way you conveyed information, how you referred to past events, and what you wanted people to take away from it. You had to be mindful of all these components. It was definitely a totally different consideration than anything I had done before. There's a lot of pressure because that messaging reaches various audiences, and you must ensure that the information is understood correctly by all these different groups. It's not just the people in the community or the evacuees who see it; it's also their families, loved ones, off-reserve members, and other followers of the pages. Even other agencies are paying attention and observing what's happening.
What made an impression on you in the EOC?
Looking beyond the news headlines, people often don't realize the work and effort that goes into supporting a community in crisis. It was a tough and stressful time, with high emotions as people worried about losing their homes. At the same time, you would get a different perspective if you saw ALIB's commitment and efforts behind the scenes.
Being in the EOC was like diving into the fire, literally. The ALIB team really tried to share positive moments among the tough stuff. People need to know that the community is rallying behind them. For example, the gymnastics club here in Kamloops offered free classes for evacuees with kids at the time, which I thought was an amazing gesture. The Grand Lodge at Sun Peaks also opened their large ballroom and set up informal seating for people to gather, chat, play games, or cards, and they even set up a buffet. ALIB had navigators on site in Kamloops to help do what was needed to register as evacuees. Then there were people helping Elders and members that needed extra assistance.
It was fascinating to witness all of the complicated pieces that have to work together to evacuate and look after a community of 350 evacuees. From setting up lodging to providing them with Visa cards for their immediate needs, there were so many moving parts. Volunteers came in from everywhere – the Shuswap Nation Tribal Council showed up with their employees, and the First Nations' Emergency Services Society sent experienced staff to help with operations, which was a great learning experience for all of us. Crews were on the ground back at the Adams Lake communities protecting the structures and fighting fires. There were other people putting out hot spots, digging ditches.
And Chief Lynn and her team were amazing. Key leadership really showed up. Council members, staff – all people who aren't emergency responders in their day to day lives, but helped in the EOC or with the fire crews. Each person understood the part they played in the community's safety. Again, it just clearly demonstrates that when these things happen, people really rally and show up in the best way they can with whatever tools they have. It also didn't take long for the BC Premier to come to community. It's also a reminder that after this is over, it's going to take all stakeholders at the table to help communities recover.
How can communities be prepared for emergencies like this in the future?
I think we all understand that being prepared is always good, but you don't truly understand it until you're in it. The one message I would give is to recommend every community to put together a plan in advance and have some processes and systems in place to be ready. Get your tools and systems ready – you don't want to wing it in the middle of a crisis. I would never truly have been able to understand that if I wasn't there. Before this experience, I wouldn't have understood the process and the checks and balances required to ensure safety and follow provincial processes effectively. These are crucial aspects of emergency preparedness in EOCs and I'll carry this knowledge with me forever.
Now, when it comes to our funding work at SN, I'll be thinking about emergency response applications in a very different way and be able to pose additional questions to consider when working with communities on their applications.
Any last takeaways from this experience?
There were challenges and there was a lot of potential for things to get out of control. But at the end of the day, ALIB managed the evacuation response extremely well and it went as smoothly as it could have, with the help of a lot of different agencies and people. Seeing everyone unite to protect and assist was pretty remarkable. There were no losses of life or structure losses, which unfortunately hasn't been the case for all communities. But even in these cases, everyone rallies together. I think it's important to get in there and help in a situation like this if you have the opportunity to. Every small thing you can do to contribute really goes a long way to help people feel supported. I think that's a really important message – that in a time like this, borders, geography, political leanings don't matter. Everyone just stops what they're doing to roll up their sleeves and ask, 'How can we help?'
---