Into the Fire Part 2: Experiencing the West Kelowna Wildfire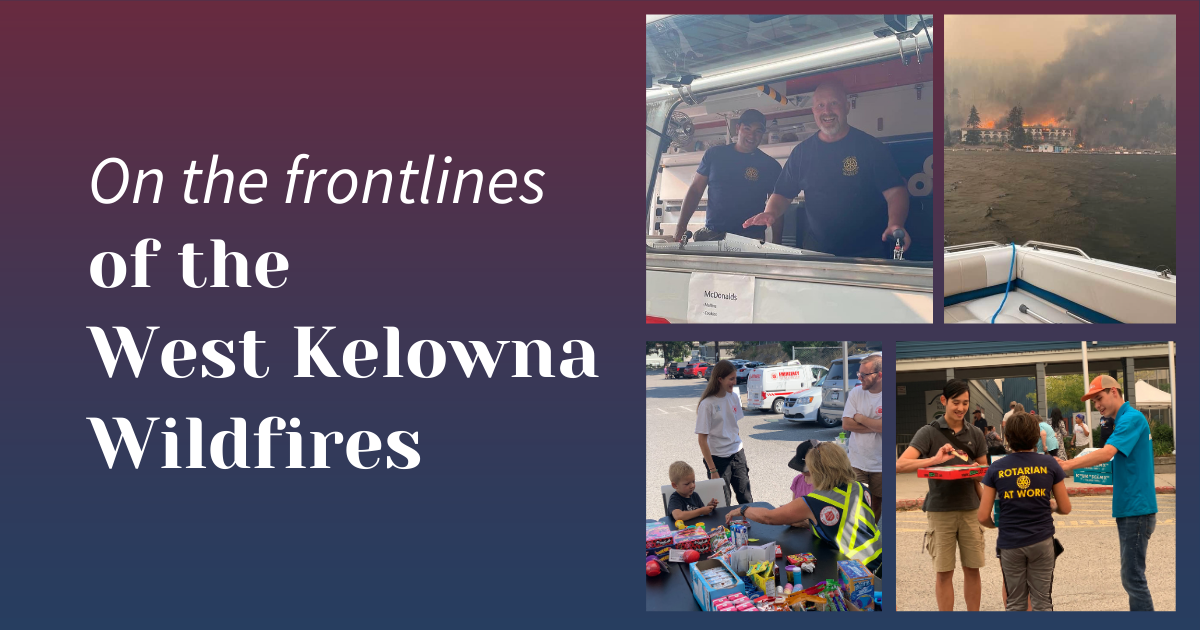 This is part of 2 part series about dealing with the recent wildfires in BC. For Part 1, read Anna Barley's reflection on helping in the Adams Lake Emergency Operations Centre here.
FRANK BUSCH
It started on Thursday afternoon on August 17th with a small but growing billow of smoke from the mountains.
When I stepped out of my office to see what all the fuss was about, I could feel the "Dragon's Breath" , a hot pulling wind created by the fire drawing air in as it grew. Sirens could be heard all around as emergency responders sprang into action. I rushed home to pack some things in case we were ordered to evacuate. The fire was burning out of control just north of Westbank/West Kelowna and my home just happened to be safe (for now) on the south end of the community. The fire soon spread to over 12,000 hectares and flames could be seen from almost anywhere in the community. Evacuation alerts turned into orders and over 10,000 people were displaced with very little notice or warning. Many evacuees ended up sleeping in their vehicles as hotels and campsites in the "safe zone" were quickly overrun.
My phone started blowing up with messages from family, friends and co-workers asking if I was safe. Grant and Anna Barley immediately offered to shelter my family and I, should we be ordered to evacuate. I was contacted by the Salvation Army to help organize volunteers for the relief effort. As President of the West Kelowna Rotary Club, I had often partnered with the Salvation Army on various community projects, especially when additional volunteers were needed. The club rallied and most of our 25 members sprung into action, some of whom were also evacuees to help feed, clothe and shelter those who had been displaced.
As we were serving food and water, we were calling around to the local businesses to donate food and supplies for evacuees and fire fighters. At one point in the week long ordeal there were over 100 fire crews from as far away as Prince George and Williams Lake helping fight the fires. We took on the task of feeding the firefighters at a separate location next to the main fire hall. Many volunteers began exhibiting symptoms of smoke inhalation, including myself. I had 3 large cups of coffee one morning and still struggled to keep moving due to the thick smoke which was now hampering the firefighters, especially the water bombers and helicopters.
As reports of homes "exploding" came in, as well as the high winds causing the fire to jump over Okanagan Lake into Kelowna, the situation became dire. Everyone was praying for rain, but there wasn't much hope in the forecast. My wife loaded up both our vehicles with as many of our possessions as would fit, fearing the worst was about to happen. We honestly believed that we would lose our home and our community.
We went to sleep on Tuesday night with our bedroom doors open and my eldest son sleeping in the living room in case the dreaded knock at the door came. We hadn't slept well for 5 nights because we were setting alarms to wake up every hour and a half to check for updates. Whether it was the smoke, or the cumulative effect of poor sleep, I didn't hear the rain fall during the night, but woke up to new hope that the tide had turned.
It was only 6mm, but it was enough to give the firefighters a fighting chance. Slowly but surely, their persistence paid off and most of the fires got under control.
As things begin to return to normal for those who didn't lose their homes, our hearts go out to the owners of approximately 190 homes and structures that have been lost. It is a once in a generation wildfire that will have a lasting impact on the region. The silver lining in all of this is the way in which the community came together to help one another. As I said on many occasions at the evacuation centre, "We are all friends and neighbours here."